There are more than 600 castles in Wales, more per square mile than anywhere in the world. Cadw Sites' mission is to protect and ensure accessibility to everyone to some of the most iconic sites of North and South Wales, whilst striving to provide an accessible and well-protected historic environment for Wales.
Wales has an astonishing array of abbeys, churches and chapels and some of the most atmospheric ancient monuments that visitors have been seeking out for thousands of years. With many monuments to discover paying tribute to Wales's proud heritage and multiple historic sites that tell the stories of medieval Welsh princes, we are certain you will enjoy delving deep into the fascinating heritage and culture of Wales.
NEW CADW ATTRACTIONS ADDED TO ASA'S PORTFOLIO
We have added many new Welsh attractions to the ASA portal recently, which can be found below. These attractions are all open daily with immediate availability.

caerleon ruins and roman baths
Inside a modern covered building in today's Caerleon you can explore the remains of the immense natatio, or open-air swimming pool, that once held more than 80,000 gallons of water. You can also see the cramped rooms where the men slept and stored their weapons – the only Roman legionary barracks still on view in Europe. And you can walk through the great north entrance into the most complete Roman amphitheatre in Britain and imagine the din of 6,000 people baying for blood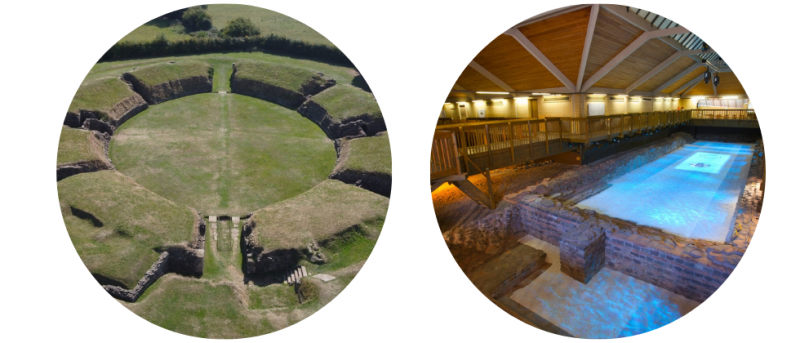 st davids bishop's palace
St Davids Bishops Palace is a ruined medieval palace located adjacent to St Davids Cathedral in the city of St Davids, Pembrokeshire, one of the most important ecclesiastical sites in Wales.
There was only one top job for an ambitious cleric in medieval Wales: Bishop of St Davids in Pembrokeshire. A 12th-century pope had decreed that two trips to St Davids were equal to one to Rome – turning it into a centre of pilgrimage for the entire Western world.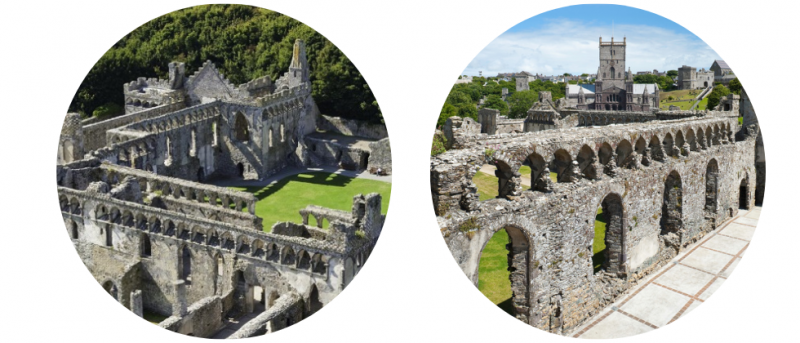 raglan castle
The unmistakable silhouette of Raglan crowning a ridge amid glorious countryside is the grandest castle ever built by Welshmen. You can thank Sir William ap Thomas, the 'blue knight of Gwent', for the moated Great Tower of 1435 that still dominates this mighty fortress-palace. These stone arches allowed missiles to be rained down on attackers. But Raglan came 150 years later than the turbulent heyday of castle-building. It was designed to impress as much as to intimidate.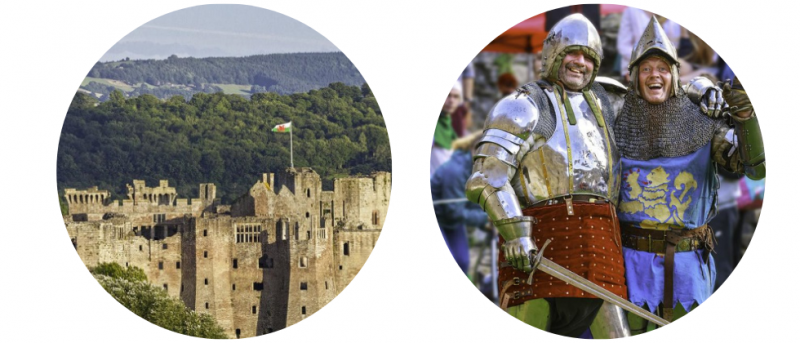 TINTERN ABBEY
Tintern Abbey is a national icon — still standing in roofless splendour on the banks of the River Wye nearly 500 years since its tragic fall from grace. It was founded in 1131 by Cistercian monks, who were happy to make do with timber buildings at first. Abbot Henry, a reformed robber, was better known for his habit of crying at the altar than for his architectural ambitions. A simple stone church and cloisters came later. But then, thanks to the patronage of wealthy Marcher lords, the white-robed monks began to think bigger.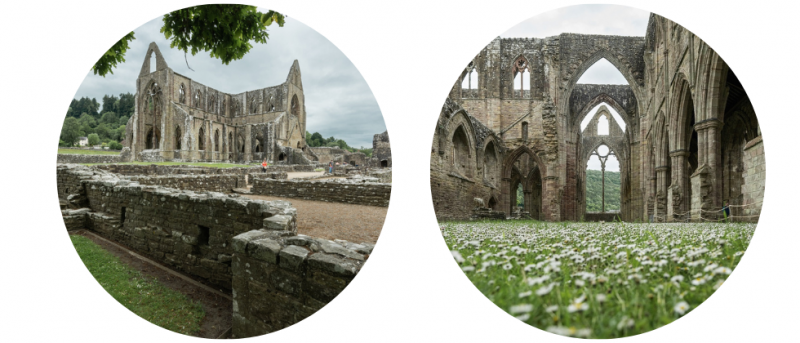 CAERNARFON castle
Caernarfon Castle is recognised around the world as one of the greatest buildings of the Middle Ages. This fortress-palace on the banks of the River Seiont is grouped with Edward I's other castles at Conwy, Beaumaris and Harlech as a World Heritage Site. But for sheer scale and architectural drama Caernarfon stands alone.