Getting Ready to Welcome Overseas Visitors
Easing of Covid-19 Restrictions
It's been a tough few months for everyone, and we are under no illusion that the road to recovery will be long and more challenging than any of us have ever seen before. Global tourism is just starting to re-awaken, with many countries well ahead of us. Even so, we are seeing positive signs here in the UK & Ireland.
On the back of the recent Alert Level reduction from Level 4 to Level 3, many retail shops opened last week for the first time. Hotels could be set to open within the next few weeks. Pending final government approval Irish hotels could open as early as 29th June 2020 with Northern Ireland from the 3rd July. England is set for a 4th July opening (just reconfirmed by Government today along with the relaxation of the 2m rule to 1m); Scotland on the 15th July, and Wales is potentially looking at 20th July.
Of course, not all will choose to open right away and we will continue to update our news page with the latest dates. (view here)
The current 14 day quarantine on arrival is the big factor in all this. A government review is due at the end of June, and the inbound tourism industry is waiting with bated breath for an announcement to end any quarantine for some countries at least.
In the meantime, all our partners here are preparing for a "Covid-safe" return. Setting out what the customer experience will look like and what to expect. ASA is no exception and we have our own return to the workplace policies already in place for when the time comes for our ASA family to return physically to the offices in Edinburgh & London. You know how we like to plan ahead!
We are collating all the supplier information and are providing links online in our Product Pages. Once complete we'll also be sharing that information in one document for ease of access. These "Covid-safe" documents give full details on what safety measures will be in place & any impact that might have on your clients stay.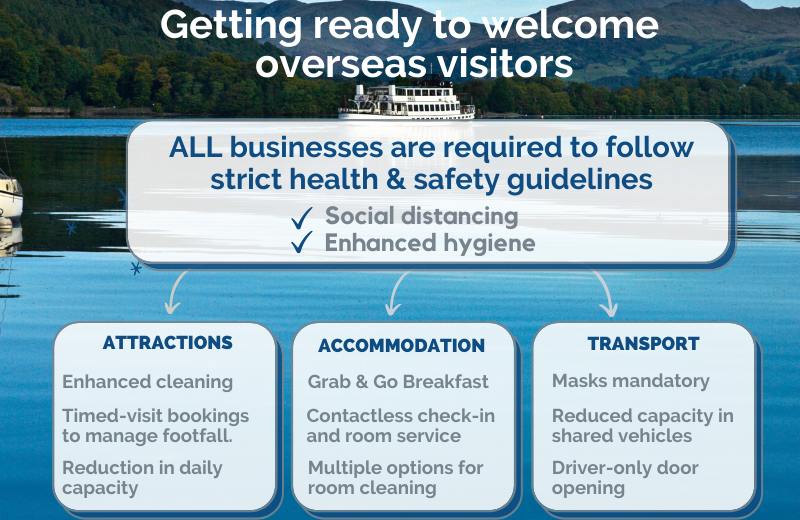 Social distancing will of course continue to be the norm everywhere, as will enhanced hygiene. All business will follow the official current medical advice and that will be reflected in all areas of tourism too, but here are some of the additional features you can expect:
Attractions: More timed-visit bookings only to manage footfall and a reduction in daily capacity particularly for indoor attractions.
Hotels: Grab & Go breakfasts, contactless check-in & room service, and multiple options for room cleaning.
Sightseeing Tours: Potential reduced capacity in shared vehicles. More focus on time spent outside vehicles & increased use of earpiece commentary to help maintain social distance.
Private Touring & Transfers: Driver-only door opening, hand sanitiser & on-going cleaning throughout the day. Updated policies & procedures for meeting clients and whilst on tour.
Public Transport: Masks are required for all public and private hire transport currently – so don't leave home without them!
Be assured that ALL businesses are required to follow strict health & safety guidelines and we will work with you to make sure you get the information you need for your clients.
2021 rates are well underway, and the team has been busy. You'll already see a wide range of hotels ready to book online well into 2021 and in some cases beyond. We are also ready to answer any queries you have by e-mail.
More than ever, we are here to support you and your clients. We cannot wait to speak with you and plan the next steps together.
As they say, absence makes the heart grow stronger!