Marie Tussaud was born in December 1761 in Strasbourg, France.
That makes next week her 258th birthday!
To mark the occasion, the original Madame Tussauds on London's Baker Street will be holding a week of celebrations. This will include a Marie-style takeover on Twitter and Instagram, as well as lots of birthday props, party hats and balloons in the attraction to get guests in a celebratory mood.
Up until her final years, it was not unusual for Marie herself to be spotted in the entrance of the attraction counting the day's takings, so we'll be moving her self-portrait figure to admissions in celebration of her birthday!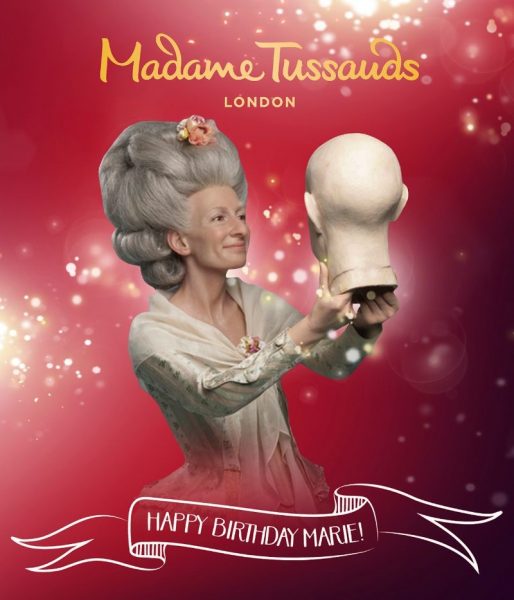 A Fascinating History
Following the death of her Father the Tussaud family moved from France to Bern in Switzerland when Marie was six years old. They moved into the home of local doctor Philippe Curtius, where Marie's Mother acted as housekeeper.
Dr Curtius was not only a physician but was also skilled in wax modelling. He initially used his talent as wax sculptor to illustrate anatomy and later for portraits
In 1765 they moved to Paris to establish a Cabinet de Portraits En Cire (Wax portraiture firm)
The first public exhibition of Curtius' waxworks was shown in 1770 and attracted a large crowd.
Curtius taught Tussaud the art of wax modelling. She showed talent for the technique and began working for him as an artist.
From 1780 until 1789 Tussaud created many of her most famous portraits of celebrities. She was also called upon to cast the heads of individuals executed by guillotine and whole body casts of prominent figures at the time.
When Curtius died in 1794, he left his collection of wax works to Tussaud
As a result of the Napoleonic Wars, Tussaud was unable to return to France, so she travelled with her collection throughout the British Isles.
In 1835, after 33 years touring Britain, she established her first permanent exhibition in Baker Street, on the upper floor of the "Baker Street Bazaar"