NORTH COAST 500
Summary
There's nothing quite like the freedom of the long open road. Never-ending back roads, wide meandering country tracks and beautiful bends through some of Scotland's finest coastal scenery are just a few things you can expect along the North Coast 500.
Strap yourself in for the road trip of a lifetime!
Route overview
The NC500 starts in the northern city of Inverness, weaves along the west coast to Applecross and then northwards towards the towns of Torridon and Ullapool. From there, you'll venture to some of the most northerly coastal points in Scotland, passing by Caithness and John o' Groats before heading south again through Dingwall and finally back to Inverness
Fun facts
Distance: 516 miles
Trip length: at least 5 – 7 days is recommended.
Accommodation: book well in advance – make sure you consider camping as an option.
Transport: You can drive, cycle, or even walk this route!
OUR TOP 5 THINGS TO SEE AND DO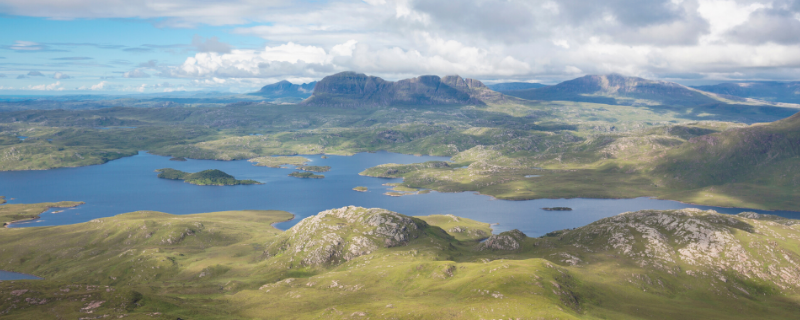 1. Torridon
Torridon is an area of outstanding natural beauty situated around the sea lochs of Torridon & Shieldaig and inland to Kinlochewe. Its combination of rock and water, changing seasons and moods make this an awe-inspiring place to visit.
This area is a paradise for walkers who can enjoy lochside rambles; remote majestic corries; a traverse of Beinn Alligin and the Pinnacle Ridge on Liathach. Red Deer, Golden & Sea Eagles and Otters are just some of the wildlife here. An exciting playground for the young and inquisitive, offering stony and sandy beaches; castles; whale watching.
ACCOMMODATION: The Torridon is a fantastic 5* hotel ideally situation on the North Coast 500 route is the ideal place to stop for an overnight stay, a delicious meal and a well earned rest!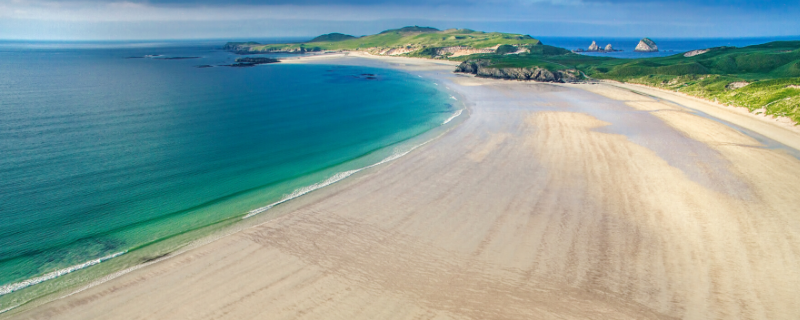 2. White Beaches and Turquoise Waters
The north coast of Scotland is home to some of the most dramatic coastlines with stunning white beaches and glittering turquoise waters that stretch for miles. Balnakeil Beach (pictured above) is a real treat, north of Durness, on the North Coast 500 driving route. The mountain, Suilven, looms in the distance and keen campers will love waking up to the glinting waters and endless expanse of sand.
Another hugely popular beach is Castlehill Beach, which lies close to the eastern tip of Scotland's northern coastline. The beach is used by surfers and is a good place to come for tranquil walks.  The area is also popular with birdwatchers, particularly at Dunnet Head and St John's Pool.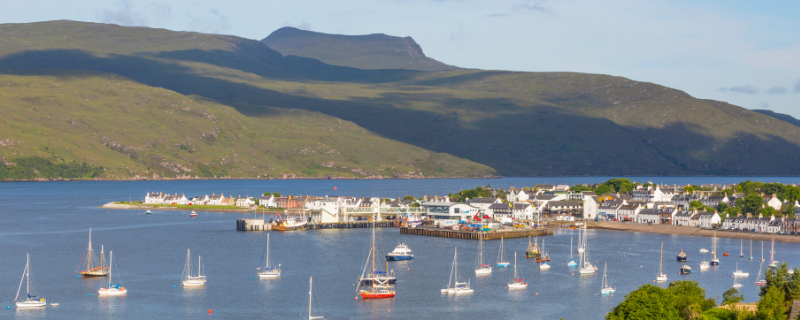 3. Ullapool
Ullapool is a picturesque fishing village, offering a wide range of facilities and cultural activities, making for the perfect Highland holiday. Ullapool is an ideal base from which to explore Wester Ross and the Highlands of Scotland, and has an array of restaurants, shops, cafes, bars with plenty of live entertainment. During your time in Ullapool, you may also enjoy a trip to the museum & library, partake in some sea fishing, loch fishing or deer stalking. Ullapool is now becoming well known for its lively music scene, with many music festivals taking place throughout the year.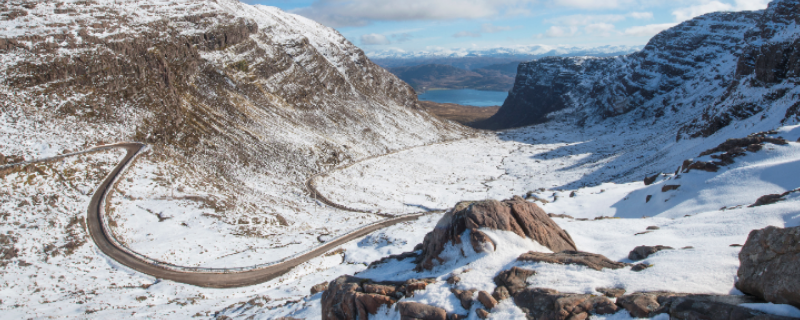 4. Route B869
The B869 Route is an extremely narrow, drive that goes from Lochinver to Unapool. It is a stunning drive along single track roads, with steep hills and unexpected switchbacks. This picturesque route has amazing views of lochs, mountains and sea. Make sure you stop at Achmelvich and Clachtoll beaches, taking in the beauty of their turquoise waters and long stretches of white sand.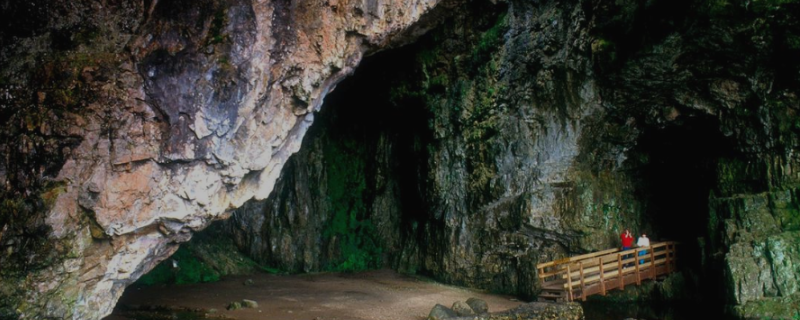 5. Smoo Cave
For a fascinating insight into ancient geology, a visit to Smoo Cave is a must. Found at the northern tip of Scotland, Smoo Cave is a mystical limestone sea cave, with a staggering 50 ft entrance and impressive cascading waterfall which is especially mesmerising following wet weather.
FURTHER INFORMATION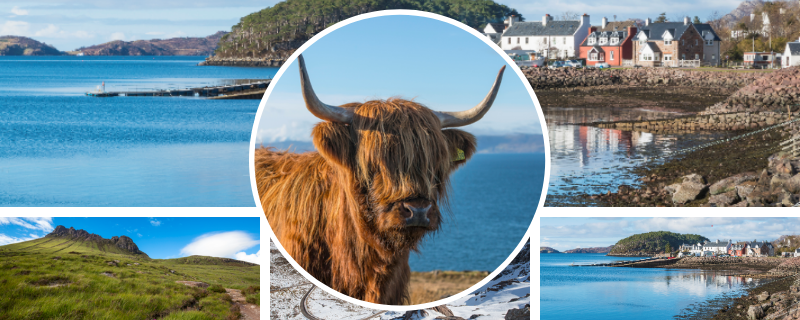 During these unprecedented times and in light of travel restrictions pertaining to COVID-19, everyone's health and safety is the most important thing. Visit Scotland kindly ask tourists to refrain from visiting during this time, to minimise risks of spreading the virus and putting unnecessary strain on public health and essential services. Rest assured, as soon as it safe and advisable for travel to return to normal, you will all be warmly welcomed to Scotland and indeed the rest of the UK & Ireland, and all the team at ASA are very excited about helping you start planning your trips once again! Eventually, we will get through this, and of course we are #strongertogether.
Please note: Everywhere in Scotland, there are Castles with lots of history and various distilleries to visit. Be careful, there is a zero-tolerance for drink driving in Scotland.
To discover more, please contact your ASA Consultant who will be delighted to provide further information