An 'Unusual' British Summer
Like so many tourism professionals around the globe, we find ourselves in the unwelcome position of having spare time on our hands in peak season.  Amongst all the adapting to the new normal & new protocols to be ready when things do change for the better, we've also been reconnecting & rediscovering.  In a period of the year when usually we'd be welcoming guests and delivering trips to last a lifetime, we've been taking time out to experience more and more of what lies on our very own doorstep right here in the UK.  It's been a little luxury at a time of crisis to be able to experience a 'British summer', albeit a most unusual one – as a tourist and not a supplier!  As tough and worrying a time as it currently is right now, we are always happy to share some moments of positivity, joy and inspiration from the ASA family with you to brighten your day and remind you as always, we are #strongertogether
ASA ARE 'GOOD TO GO'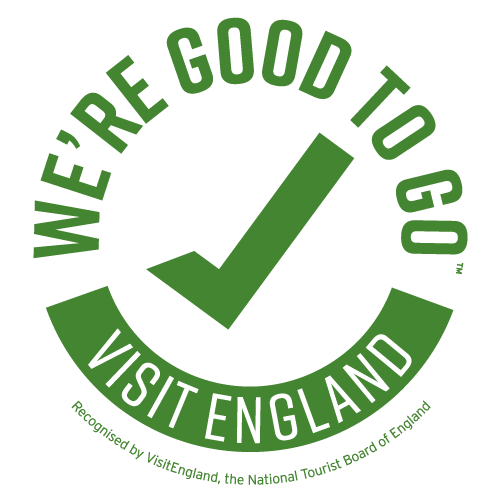 We are pleased to announce that Visit Britain have recently confirmed ASA are 'Good To Go'.What this means is we can assure our customers we are fully compliant with all Covid-19 industry standards and regulations and will endeavour as always to put the health and safety of our valued customers to the forefront of everything we do.
FIONA HITS THE ROAD
We felt compelled to share a tale of epic discovery with you; based on the recent travels taken by Fiona, our Head of Operations in Edinburgh. In July, Fiona took to the open roads of Scotland with one mission in mind… to experience the REAL Scotland – in all it's natural glory. Here she shares her incredible photography skills as she documents her journey of solo intrepid travels, peppered with curiosity, wonderment and a great big helping of extreme bravery (wild camping anyone?!)….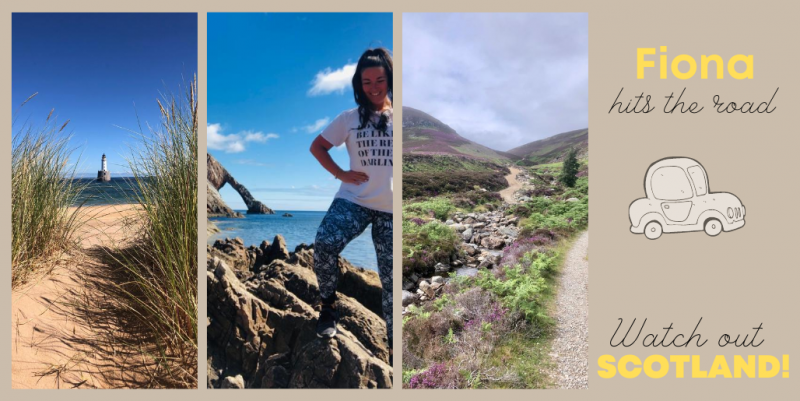 "Like a lot of people I have found myself with more time on my hands during the pandemic, so one of the things that I decided to do to occupy my time was to tick off two Scottish road trips from my bucket list whilst I have the free time to do so, and more importantly now that it is safer. After Scotland was officially back open for business on July 15th, I gave it a few days to get back up and running then decided to pack up my car, take myself on a little adventure and complete two beautiful road trips that Scotland has to offer – combining the North East 250 #NE250 and the North Coast 500 #NC500. I gave myself seven days to complete the trip, treating myself to a couple of hotels along the route, but mainly wild camping and with the beautiful weather we've been experiencing the last few months and the quieter roads, there's no better time. As I was doing the trip on my own, I decided that this time around I will focus on making this a nature and outdoors themed road trip, but next time when I'm with friends or family I will make the most of having a designated driver and make use of all the distilleries along the way!
NORTH EAST 250
The first day of my trip started on a Monday, going from Edinburgh via the town of Braemar, Cairngorms National Park and Royal Deeside before settling for the night in the city of Aberdeen. After stopping in the quaint town of Braemar for a quick stretch of the legs, I continued on to hike my first munro, otherwise known locally in Scotland as "munro bagging". A munro is a mountain that is higher than 3,000ft, there are a total of 282 munro's in Scotland stretching across the mainland and also some of the islands. Whilst in Aberdeenshire I decided to hike the most easterly munro in Scotland, Mount Keen and although I experienced the true Scottish weather during this walk, seeing every season (sunshine, strong winds, rain and sleet!) I managed to complete the walk, bagging my first munro with a cheeky dram of whisky at the summit to celebrate. After a good night's rest at the Jury's Inn Aberdeen, the second day of the NE250 I had planned to be a beaches and wildlife day, since the north eastern Aberdeenshire coast is famous for its long beautiful golden sandy beaches, lighthouses and numerous wildlife such as seals and dolphins. The day was spent beach hopping, with two of my favourite beaches being Newburgh Seal Beach/Forvie National Nature Reserve where you can see hundreds of seals relaxing on the golden beach of bobbing in the water and secondly Rattray Head Beach, again a beautiful golden beach hidden away down a single track road and I was lucky enough to have it to myself for a couple of hours, apart from your local friendly seal!
Overall I was truly blown away by the natural beauty of the beaches and how clean and vast they were. I enjoyed the beaches so much that I even decided to spend my first night wild camping at one of the beaches close to Banff, the first time I have ever wild camped, stocked up with snacks and supplies it felt wonderful to fall asleep to the sound of the ocean.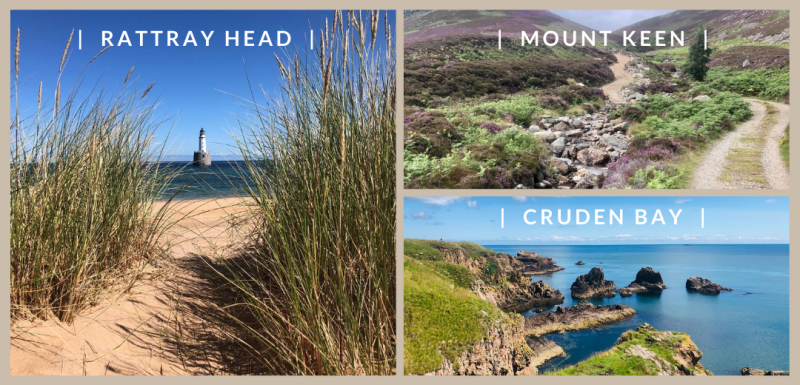 For anyone planning to do the NE250 route, here are a couple of must see stopping points that can't be missed in my opinion; Balmoral Cairns, Newburgh Seal Beach, Cruden Bay, Pennan and Bow Fiddle Rock.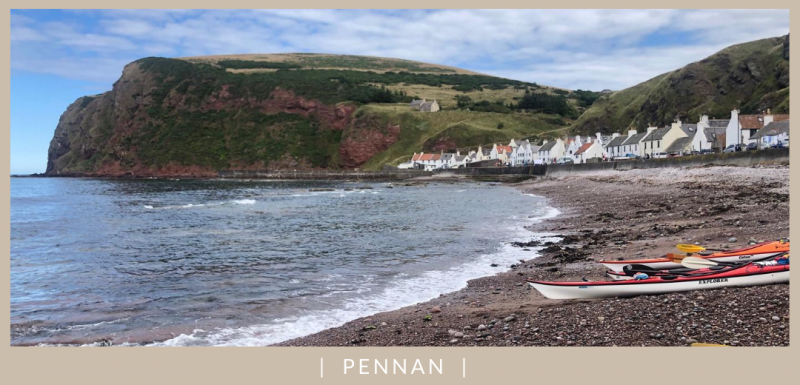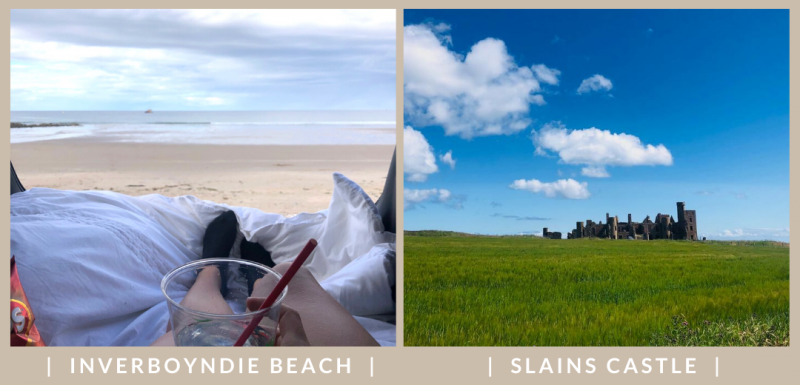 If wild camping isn't your thing and you prefer a warm bed then here are some accommodation suggestions that would also make great bases along the journey; Mary Cutler House, Jury's Inn Aberdeen, Macdonald Aviemore Resort.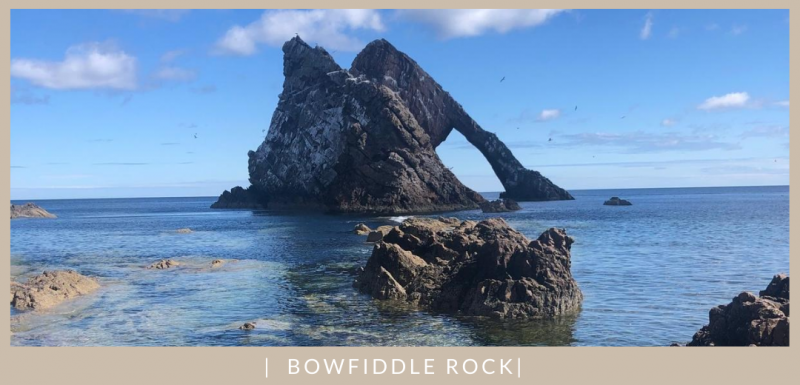 NORTH COAST 500
Starting the NC500 a little differently than most people as I combined the two road trip routes together, it worked out best for me to do the route anti-clockwise and although some people complete this in 2-3 nights I wanted to spend 5 nights exploring and with the joy of wild camping I could explore at my own pace and adjust my itinerary whenever I wanted to along the way. Once you get north of Dornoch the NC500 route is mainly steep roads, not much chance for overtaking other vehicles so patience is needed if you get stuck behind a tractor and predominantly single track roads the further north and west you go!
Having done a long coastal drive in the rain passing many pre-historic sites, puffins, hairy highland coo's, surviving the Whaligoe Steps and before I knew it I had reached John o' Groats, the most northerly point on mainland UK – so now the only way to go was west. I decided to bag another munro whilst in the region, this time the most northerly munro of Scotland, Ben Hope and just about managed not to get eaten alive by midges. So far the wild camping was also going well and not scary at all. Near enough everyone along the route was doing this in campervans, motorhomes, tents, cyclists and motor bikers pitching up everywhere, so I met a some lovely people along the way, however it's important to remember with wild camping to leave no trace afterwards.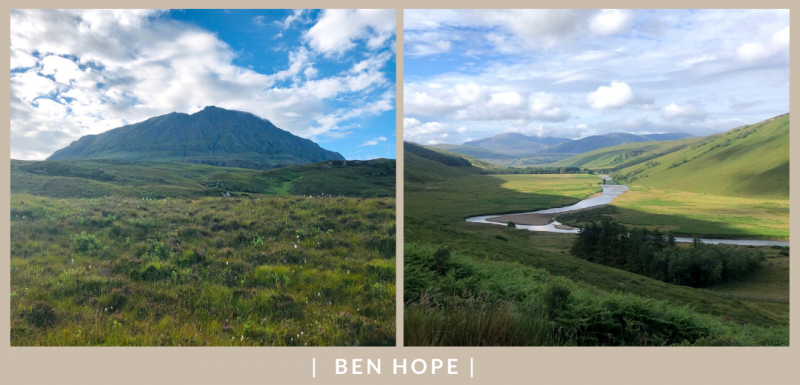 Venturing in to the second half of my NC500 trip, North Western region of Scotland had to be my most favourite part of the trip scenic wise – words can't even describe how beautiful it was. I've travelled a lot around the world and seen a lot of different types of fantastic scenery, but the amazing mountain ranges that stretch in to the sea with white sandy bays, turquoise waters and unspoilt landscapes were simply breath-taking. The remoteness of NW Sutherland is jaw dropping and after visiting Smoo Cave and Sango Sands beach, the drive from Durness south to Loch Assynt I never wanted to end.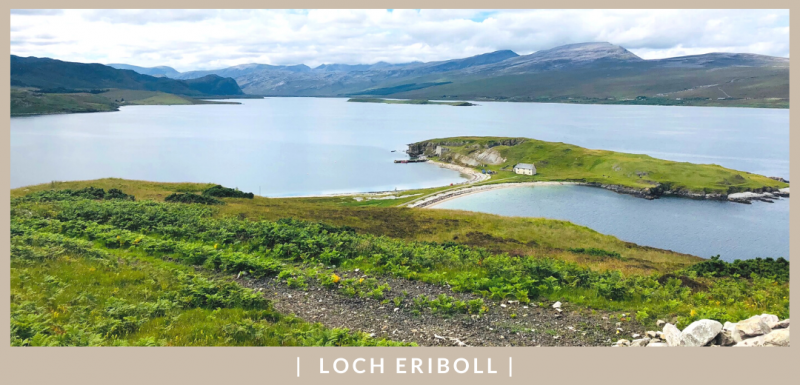 However, I had to as I needed to find a place to wild camp for the night and I lucked out with being able to sleep in a tiny bay on Loch Assynt right next to the ruins of Ardvreck Castle, once home to the Macleod Clan. Spending two nights split across the region of North West Sutherland and Wester Ross I was able to enjoy my time exploring these stunning areas, spotting a couple of wild stags and a golden eagle along the way, finishing with the silhouette of the Isle of Skye in the distance when I reached Applecross for the sunsetting with a much needed gin & tonic.
The final day on my NC500 itinerary was driving from Applecross along the famous "Bealach na Ba" single track road whilst it was still covered in low clouds, slightly daunting but exciting at the same time and I didn't just have to keep an eye out for other vehicles but also the odd sheep as they like to roam freely and just wander out in to the road. I hadn't driven through much woodland during the trip until this point as I had to drive through the area of Glen Affric which is home to ancient Caledonian Pinewoods stretching across the mountains and bordering the lochs.

Then just like that, I was back in Inverness the start and end point of the official NC500 route, and after wild camping for the last four nights with a few wild swims in the sea and Loch Laxford, I was ready for a warm bath and proper night sleep in a comfy bed at Kingsmills Hotel!
For anyone planning to do the NE500 route, here are a couple of must see stopping points that can't be missed in my opinion; Whalighoe Steps, Duncansby Stacks, Smoo Cave, Sango Sands Beach, Achmelvich, Stac Pollaidh, Gairloch, Torridon, Applecross.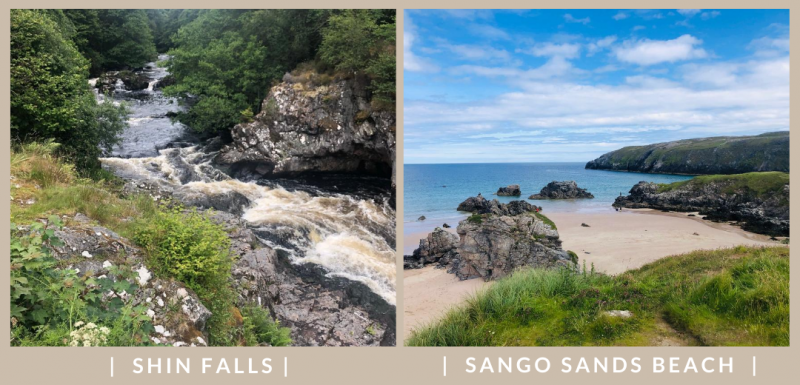 After clocking up just over 1,000 miles on my car in seven days; I had the most amazing time on my mammoth Scottish road trip, from the ever changing scenery and weather along the way, the friendly mix of people I met. It was a trip I will never forget and cherish for a long time to come……and I'll be back before I know it to certain areas to explore their beauty even more!