ASA SHINES THE SPOTLIGHT ON…..
In the first of a new series designed to connect our international readers with local experiences throughout the UK, we will be shining the 'ASA Spotlight' on different themes, taking an in-depth look at some of our partners, products, tours and attractions.
This month, we begin in Scotland, kicking off our new series with a great conversation with a fabulous driver guide who looks after our valued guests in Scotland: Diane Perna. Diane shares her fascinating life story here, regaling us with tales of her tour-guiding experiences, inspiring us with emotive descriptions of Scotland's beauty and entertaining us with her much loved Scottish spirit and humour.
Take some time out to read this interview and enjoy Diane's Scotland.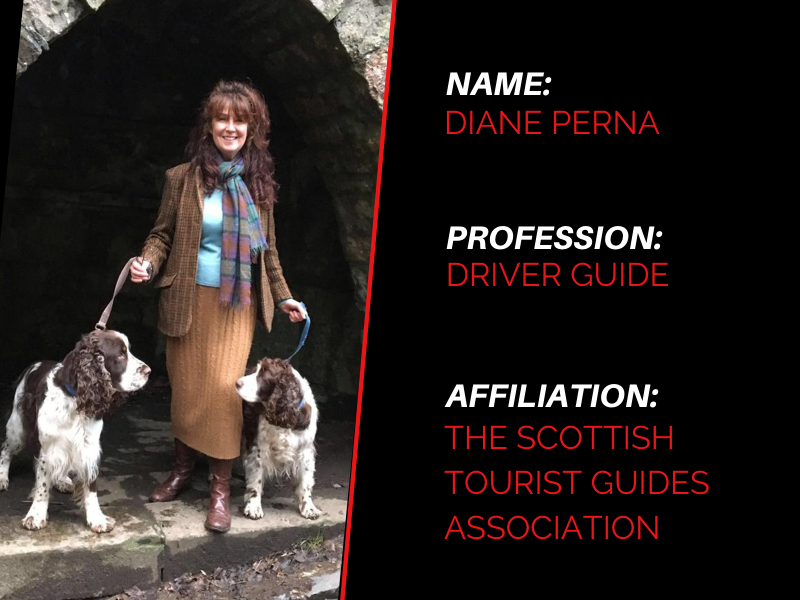 Hi Diane! Tell our readers more about where you are located and what areas you cover?
I am based in Edinburgh and tour all over Scotland, in particular the Highlands and Islands, where I am in awe and inspired by the rugged wild landscapes , majestic mountains, mysterious lochs and  stunning islands of the West Coast.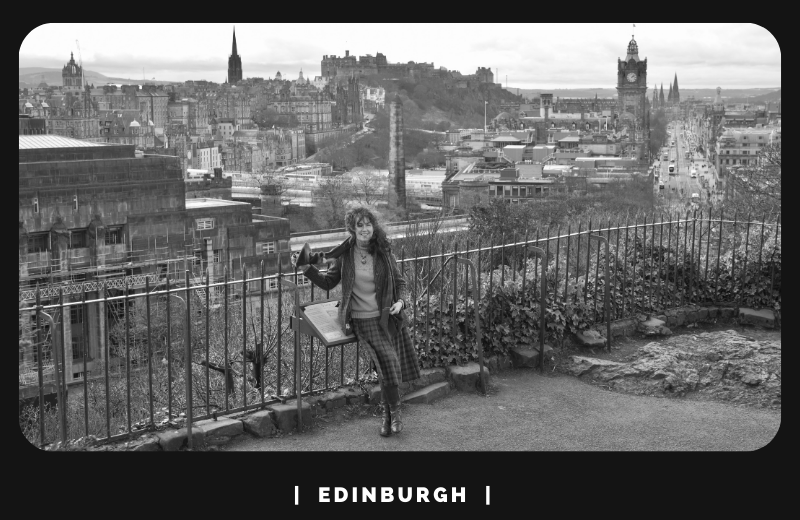 How many years have you been guiding?
I have been qualified as a professional Blue Badge Scottish Tourist Guide and a proud member of the Scottish Tourist Guides Association for some 30 years with breaks along the way to raise my lovely family of 5 children and 2 dogs.
Guiding keeps me sane !
What was your background before guiding?
Languages and travel – I have a great love for both and first had the chance to explore this while working as an Au Pair with an Italian family in Milan after which I travelled through Yugoslavia to Turkey and Greece before returning to Scotland where I studied Business Studies and Languages, French and Spanish. Following my studies, I was hungry to see more of the world and experience different cultures and went on a marvellous expedition crossing the Atlantic on a 56 ft sailing boat from the Canary Islands to Cabo Verde and on to the Caribbean. This led to many an adventure on arrival in Bequia and traveling though the Caribbean islands to Venezuela, Columbia, Ecuador, Peru, Bolivia and Brasil. I finally came back to Europe where I spent some time teaching English as a foreign language in Italy and Spain before moving to London where I worked in interpreting with Spanish and Portuguese speaking visitors.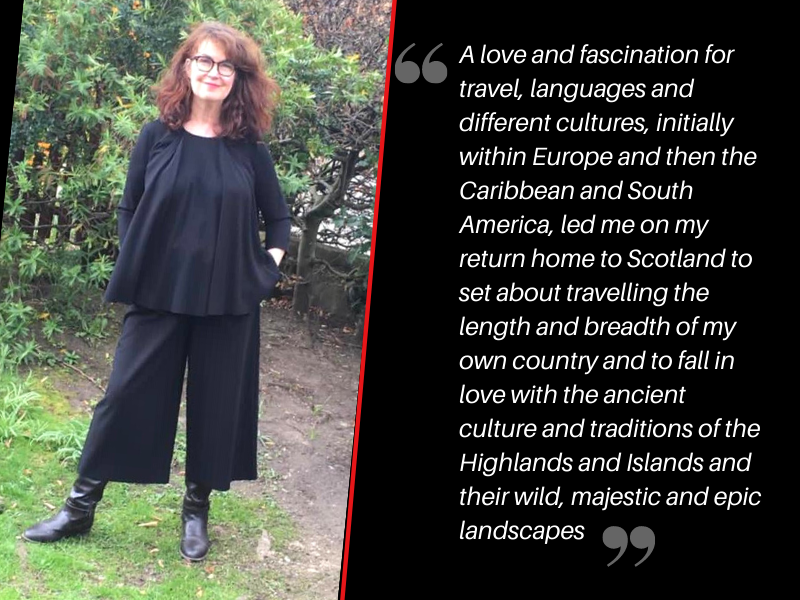 Was there anything in particular that made you want to become a guide?
This love and fascination for travel, languages and different cultures, initially within Europe and then the Caribbean and South America, led me on my return home to Scotland to set about travelling the length and breadth of my own country and to fall in love with the ancient culture and traditions of the Highlands and Islands and their wild, majestic and epic landscapes. It was then that I put my passions together and realised my dream job would be to introduce and connect travellers from other countries to my Scotland and share with them my passion for the nature, landscapes, history, traditions, culture, languages and the wonderful quirkiness of our people! I was also enthusiastic to use my language skills to guide in French, Italian, Spanish and Portuguese. (Currently guiding in Spanish and Portuguese and of course English with a wee Scottish accent ! )
Do you have a favourite type of client?  
When thinking about this I discovered that I have in fact many different favourite types of clients! It is hard to pick one so I will share with you a selection of my favourite clients, starting with the clients who are enthusiastic, interested, excited and engaged with Scotland and their Scottish experience. I also love to look after a family with different ages, stages and interests and where I have the joy of seeing Scotland through the children's eyes and the challenge of finding ways to keep the show on the road and the whole family engaged. Those who like to take the back roads and the single track roads and must stop and talk to the locals, visit their local shops and sample their local produce are another favourite of mine, as are those who have travelled extensively and visited amazing countries and now it is Scotland's time to shine and make its position in their hearts. 
Finally, I love to host guests who have ancestral connections but little information on those ancestors so together we research, explore and investigate places with possible family connections – this can be very emotional and rewarding for the clients and for myself.
And so the list goes on, I have many favourite types of clients!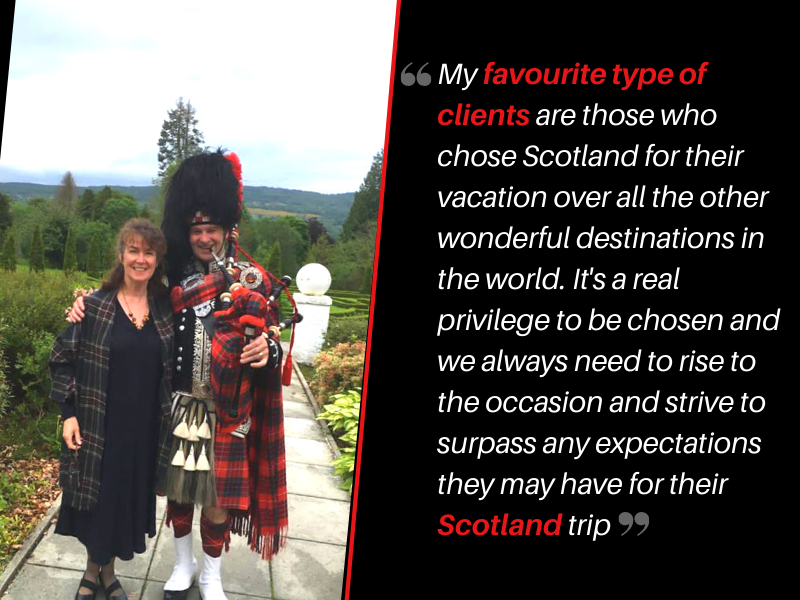 Please give us your essential "must see" recommendation for a first time visitor to Scotland.
I would recommend that first time visitors arrive into Edinburgh and are introduced to our historic capital city with a guided walking tour of the Old and New Towns, including a visit to the medieval fortress that is Edinburgh Castle.  Then wander the cobbled stone streets, wynds and closes of the Royal Mile and soak up the history and the mystery of this little jewel of a capital city. The next "must see" has to be an extended tour of the Highlands of Scotland and I would recommend heading west to the scenic Loch Lomond and Trossachs National Park and take the stunning route A82 northwards via Crianlarich, the haunting Valley of Glencoe, Fort William and the Great Glen to the Loch of legends, Loch Ness and Inverness, capital of the Highlands. Essential here is a visit to the powerfully emotive and atmospheric Culloden Battlefield, where the 1745 Jacobite Rising came to a tragic end. Perhaps also a visit to historic Cawdor Castle and a local distillery or pub for a taste of our world famous malt whisky or in the gaelic, uisge beatha, water of life! It's then time to head south through the Cairngorm mountains to the picturesque small towns of Pitlochry and charming Dunkeld, lying  on the banks of the River Tay en route back to Edinburgh.
If you visit us between May and September and your visit falls over a weekend, do try and come along to the local Highland Games to experience the sense of community, pride, heritage and celebration of this ancient tradition. Highland Games are held up and down the country in stunning locations and each Games has their own local charm and character offering such a unique taste of Scotland. The most famous of the Highland Games is the Braemar Gathering held in glorious Royal Deeside, close to Balmoral Castle and attended by the Royal Family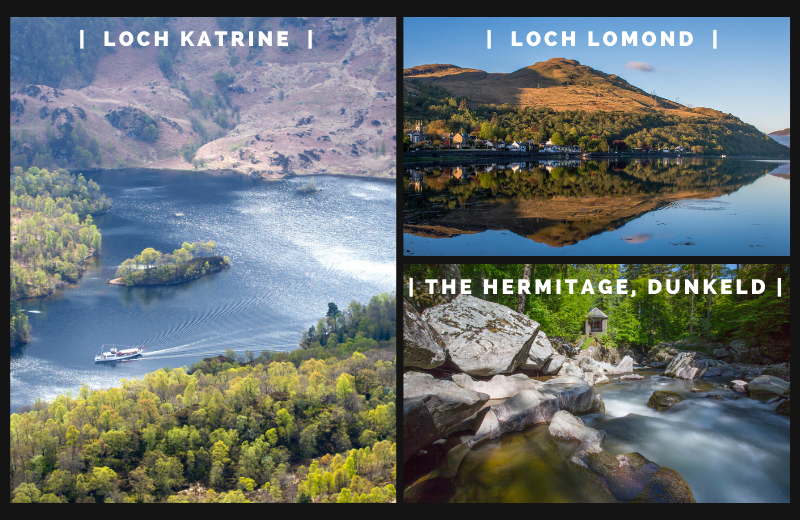 If it was up to you where would you choose to take repeat visitors who've seen a lot of the more popular areas of the country, and why?
I would head north to the western highlands and the mountains of Torridon, for sheer awesome and inspiring wild landscapes and big skies. I love the drama of the wild landscapes and the sense of ancient history which is all around you as you journey through the western highlands.
And then consider taking a ferry from the small port of Ullapool to reach Stornoway and journey through Lewis and Harris, the wild heart of Scotland's  Outer Hebrides with its dramatic landscapes  unique Gaelic culture and stunning white beaches. Here you will find the ancient stones of Callanish, the thatched blackhouses at Gearrannan, the world famous Harris Tweed and the Isle of Harris Distillery.  From Harris you can sail over the sea to Skye, in Gaelic,  An t-Eilean Sgitheanach  and  witness some of Scotland's most spectacular scenery in the dramatic geology of the Old Man of Storr and the Quirang, with its pinnacles, rock towers and secret hiding places.
Having said that, the logistics of getting to some of these places do require a commitment especially when there are time constraints. A far more accessible area, but surprisingly less frequented, is the Scottish Borders, a complete contrast to the north and easily reached from Edinburgh or equally on the journey north from England when you cross over into the Border Region. Explore its landscape defined by rolling hills, gentle valleys and a picturesque rocky coastline. A region rich with fine stately homes, historic castles, medieval abbeys and the most charming small towns like Melrose, a real little jewel of a town with the hauntingly beautiful Melrose Abbey at its heart. This region with its powerful and turbulent history inspired Sir Walter Scott and here he created his extraordinary home, Abbotsford, a Palace of the Imagination, with its amazing historical collections. If you can try to fit in a visit, you won't be disappointed ! Throughout 2021 and 2022 they will be celebrating the 250th anniversary of Sir Walter Scott. Enjoy wandering through his library and his study and marvel at his world class collections. Take a stroll down to the river and enjoy the beautiful and tranquil views and just breathe in that wonderful pure fresh air!
,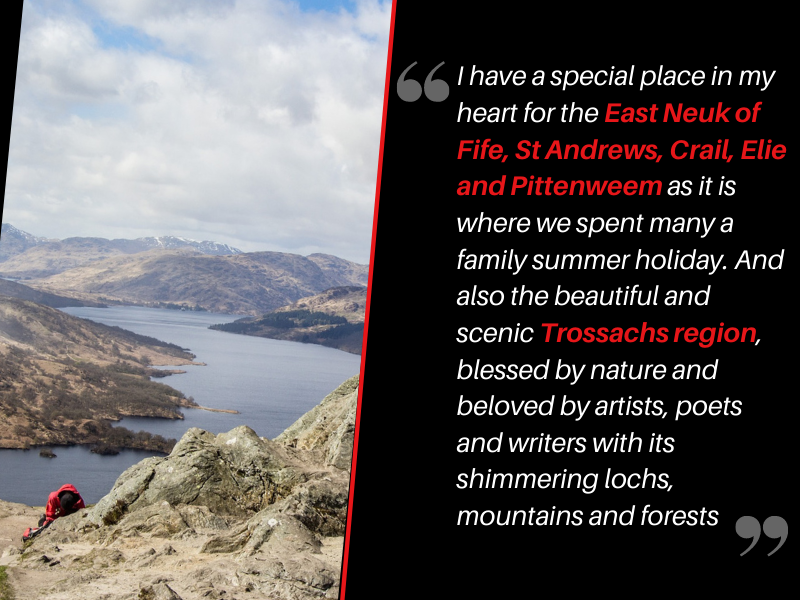 Do you have a favourite place in Scotland you like to go when you're not working?
Although not as majestic as some of Scotland's breathtaking places, I have a special place in my heart for the East Neuk of Fife,  St Andrews, Crail, Elie and Pittenweem as it is where we spent many a family summer holiday. And also the beautiful and scenic Trossachs region, blessed by nature and beloved by artists, poets and writers with its shimmering lochs, mountains and forests.
When you think about all your past guiding jobs, are there any in particular that stand out and bring a smile to your face? 
There are so many special moments and memories, but one that stands out and brings a big smile to my face is an ancestral tour where the clients had little information. However, through a visit to a local history museum and knocking on many doors, speaking to local folks and driving off road through the countryside we found our pot of gold: the original family farmhouse – where we were invited in for a visit! We followed this up with a visit to the old church and graveyard where their family were buried and found several family tomb stones with beautiful carvings depicting their various occupations. This was a very moving moment for the lady who had not really expected to find this.
After this visit we headed to the old original inn which had been there for several hundred years and would almost certainly have been frequented by her ancestors. They had very tasty local pub grub which they washed down with the local beer and then engaged in some really good banter with the pub's regulars. A memorable day indeed and so very rewarding.
What are you looking forward to the most when restrictions start to relax?
On a personal level, I am really excited and looking forward to meeting up and being together with my family again. I have a daughter living in Paris, another in Konstanz, Germany and a son in Barcelona. It's already 15 months since we have been together so our reunion will be just wonderful!
On a professional level, I am really looking forward to welcoming our guests to Scotland. It will be a very big moment for us all and I think our tours will be so meaningful and rewarding given this past year and all that we have been through. We as guides will need to be very sensitive to our guests and help make them feel safe and comfortable on their tour. I look forward to getting to know our guests, their special interests and passions and making those personal connections with them, as we travel around the country celebrating Scotland's rich heritage. I will be very excited to be heading North with them into the amazing Highlands and Islands after such a long absence and to share my knowledge and experience with them to help make this a very special and memorable trip.
Can you share some of your favourite places to stay, visit and eat with us? Difficult for a guide to say we know!
That is a question which will have many answers! For accommodation, I would have to highly recommend the stunning Inverlochy Castle or The Torridon – a magnificent property nestled away in the beautiful Scottish Highlands. Some of my favourite experiences to share with guests would have to be Rothiemurchus Estate in the Cairngorms, participating in the Landrover Safaris at Aberfeldy or witnessing the wonders of the sheep dog trials at Leault Farm near Kingussie. An absolute must that I'd recommend to anyone who visits the Trossachs region would be a trip on the Sir Walter Scott Steam Ship on Loch Katrine – repairs pending, or a visit to Stirling Castle the childhood home of Mary Queen of Scots. For those that are more active and like to explore on foot, you must try the magical Perthshire forest walk by Dunkeld, following in the footsteps of Mendelssohn, Turner, Wordsworth and Queen Victoria. For restaurants one of my favourites is the Three Chimneys, located in Skye celebrating Skye's authentic, natural larder from land and sea.  I can go on and on!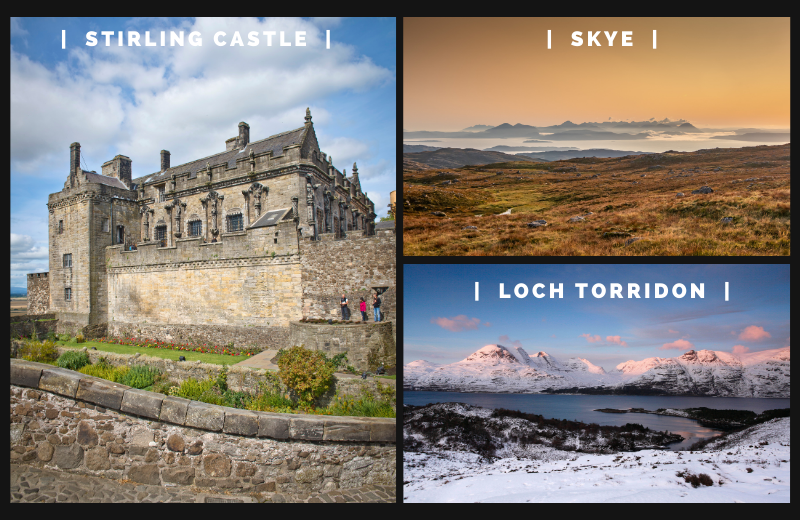 Do you have any final message for our overseas partners reading this?
Thank you for being inspired to recommend Scotland to your clients and for trusting us to take good care of them and to look after them like our own. I am really looking forward to sharing my Scotland with them and working together to make their Scottish trip the trip of a lifetime celebrating Scotland's nature, history, culture, music and traditions as we weave our way through a tapestry of inspiring cities, charming villages and truly awesome landscapes. With a little help from our wonderful  "uisge beatha" (whisky) I will have them speaking Scottish gaelic in no time!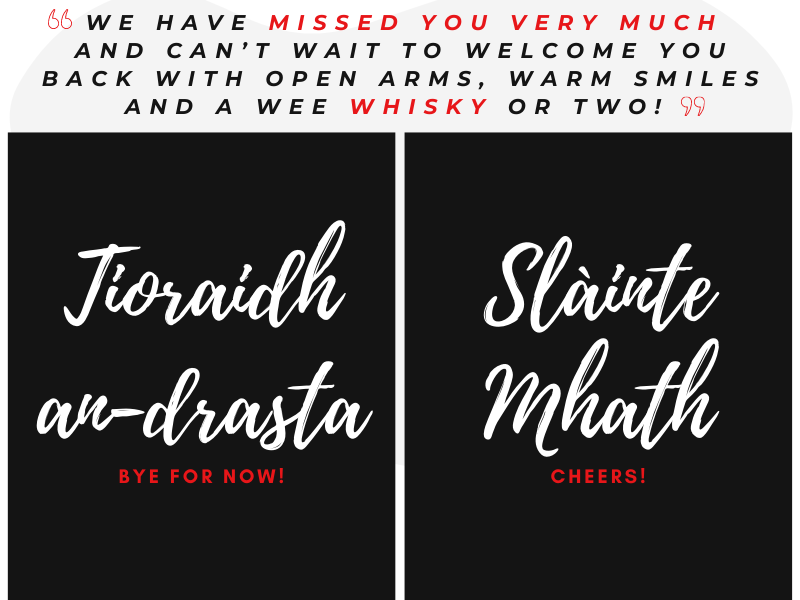 THANK YOU DIANE, WHAT A WONDERFUL INSIGHT INTO YOUR FASCINATING LIFE!
VisitScotland recognises the Scottish Tourist Guides Association as the professional membership body for fully trained and accredited tourist guides in Scotland.  STGA accredited guides are passionate ambassadors for Scotland and in providing visitors with information and inspiration, help deliver a memorable experience.  All STGA guides have successfully completed a rigorous programme of training and assessment before being admitted to membership of the association. 
ASA PARTNERS IN SCOTLAND READY AND WAITINg
No doubt Diane's epic stories and truly inspiring reminders of all the beauty on offer in Scotland has given you a taste for all things Scottish right now. Please don't hesitate to speak to your ASA consultant who will be delighted to tailor-make a dream trip to Scotland for you, encompassing all the magic this wonderful destination has to offer while creating long-lasting memories never to be forgotten!