We are immensely proud and hugely honoured to announce that we have been awarded the accolade of Tour Operator of the Year at the UKinbound Awards for Excellence event last night!!
"These awards have a particular significance to all our UKinbound winners as they involve the membership in the voting process.  To be shortlisted by our fellow industry members already means a huge amount to us, and to win is an honour. The ASA teams have consistently pushed themselves and delivered, despite facing such fast growth and huge changes to the way we all approach working in today's environment. We shall continue the celebrations as we all set off on our annual ASA family weekend away tomorrow, and look forward to our 45th anniversary celebrations next month" Anak McSporran, Managing Director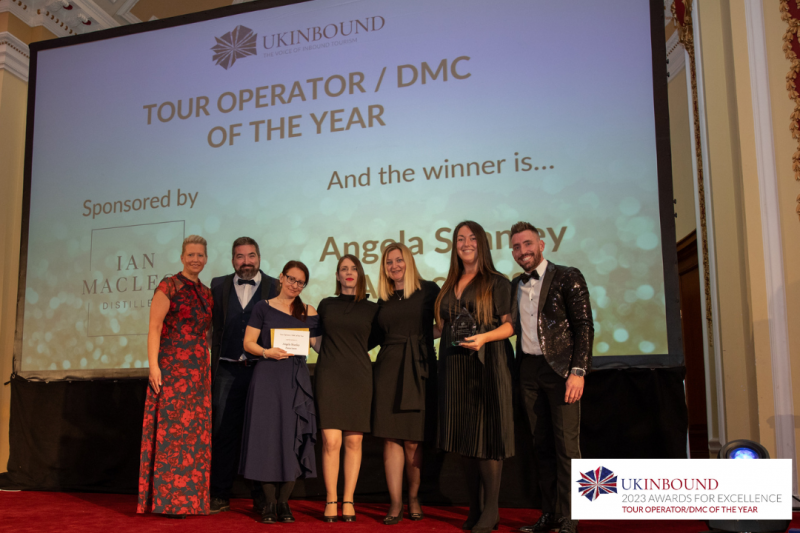 ASA members accepting the award from left to right: Aled Rees, Laura Federico, Nicky Athanasopoulou, Agnieszka Bunia & Fiona Matthews
We would like to extend our heartfelt gratitude to all our global partners and local suppliers, we really couldn't do what we do without your unwavering support and constant professionalism.
The award was presented in front of over 350 tourism and hospitality professionals at the annual UKinbound Awards for Excellence Gala Dinner, which took place at Belfast City Hall.
Following self-nomination, the winners were decided by a panel of independent judges from across the tourism industry – Kurt Janson, former director of The Tourism Alliance; Jason Edwards, Jason Edwards Travel; and Dr Karen Thomas, director, Tourism and Events Research Hub, Canterbury Christ Church University.
Joss Croft OBE, CEO UKinbound said: "Last year, our inbound tourism industry saw over 31 million visits from international tourists to the UK who spent over £26 billion and our Awards for Excellence are a great opportunity to reward and celebrate the industry. Our members who work for businesses such as major attractions, tour operators, transport and accommodation providers have all worked incredibly hard over the last 12 months and made a significant contribution to the continuing success of the sector.  We are delighted to name Angela Shanley Associates Tour Operator of the Year"
The Awards for Excellence were presented during the association's Annual Convention which took place at the Assembly Buildings in Belfast on Wednesday 20 and Thursday 21 September. The event featured an influential line-up of speakers including psychologist and motivational speaker Jamil Qureshi; Ellvena Graham, Chair of Tourism Northern Ireland and Patricia Yates, CEO, VisitBritain.