ASA SHINES THE SPOTLIGHT ON MANCHESTER
The ASA Spotlight has returned, this time to shine it's light on Manchester and one of our award-winning tour guide and taxi driver, John Consterdine from Manchester Taxi Tours.
Manchester is a much loved city known for its vibrancy, unique history and cultural scene which perfectly blends an incredible mix of science, politics, music, arts and sport. It's charming city centre is jam-packed with unique and eclectic restaurants, bars, shops, museums,  galleries, hotels and places to stay whilst the surrounding Greater Manchester boroughs offer a patch-work of visitor experiences including quaint market towns, traditional pubs and beautiful green spaces and waterways to be explored.
A fantastic way to discover over 2000 years of history is to take a guided tour in a fully electric taxi with John from Manchester Taxi Tours, who is fiercely proud and passionate about his home city and thrives on sharing his love for Manchester with the world. This interview with John will give you a greater insight into his busy life as a taxi driver / tour guide and hopefully inspire you to book your next trip to Manchester soon!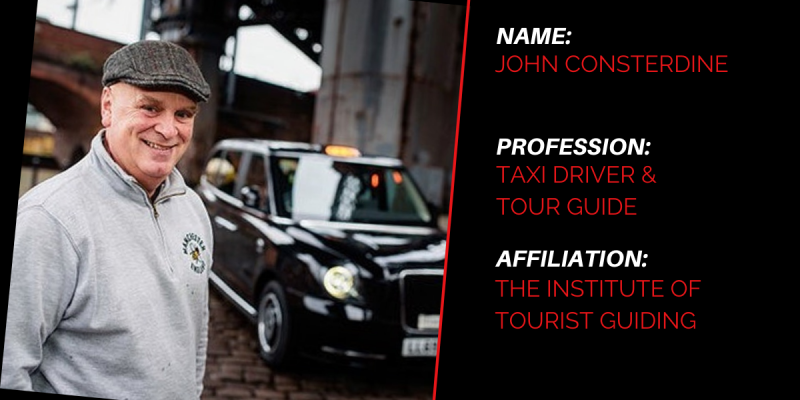 Hi John! Please tell our readers more about your tours and how everything started for you? 
I'm from North Manchester (a place called Crumpsall, around 2 miles from the city centre) and as long as I can remember, I've been fascinated by Manchester. I started driving Taxis many, many years ago, this was long before Sat-Nav and mobile phones, so learning and gaining knowledge of the city was essential. Little did I know this hard earned knowledge would stand me in great stead for the future.
How many years have you been guiding ?
I always enjoyed sharing stories about Manchester with my taxi clients, I heard about a Tour Guiding course being administered by Marketing Manchester under the auspices of The Institute of Tourist Guiding. The course was very intensive and led to examinations, both written and practical. I passed the course in 2009 and became Manchester's only fully qualified Tour Guide and Taxi Driver.
What was your background before guiding?
I had a variety of jobs before embarking on my Taxi Tour guiding career but turning my hobby into a job has given me the greatest satisfaction.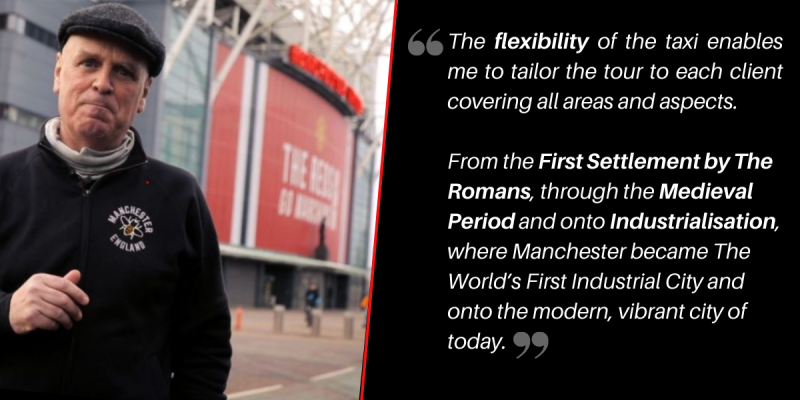 Tell us a little more about your clients, their nationalities, ages and interests? 
My clients come from all over the world and a great variety of ages and interests. Manchester is a fascinating city with many different areas and aspects.
The flexibility of the taxi enables me to tailor the tour to each client covering all areas and aspects. From the First Settlement by The Romans, through the Medieval Period and onto Industrialisation, where Manchester became the world's first Industrial City and onto the modern, vibrant city of today.
We cover all aspects, history, culture, sport, music, industry, art, architecture, education and all things Mancunian.
Do you have a favourite type of client?
My favourite clients are savvy travellers, who want to see the how the city works, how all the various aspects fit together and ask lots of questions.
Do you speak any foreign languages?
I was lucky to live in France for a while and speak a very little basic French. I've done lots of tours for clients for whom English is not their first language and it's great to share language and culture.
Do you have a favourite spot in Manchester?
Manchester is an amazing City with so many different areas and elements.
I am fascinated by the Industrial Revolution, Canals, Railways, Mills and how the Industrialists built a lasting legacy, which is still here today. The Mills of Ancoats, Canals of Castlefield and The Manchester Ship Canal are amongst my favourite places.
In your opinion, what makes a great guide?
A great guide is someone who has great communication skills and can adapt to each clients interests. I pride myself on a friendly, professional service, which has resulted in winning awards, locally and nationally.
My philosophy is, that if clients are good enough to spend their time and money with me, I have to give the best tours I can and I read my TripAdvisor reviews with a great sense of pride.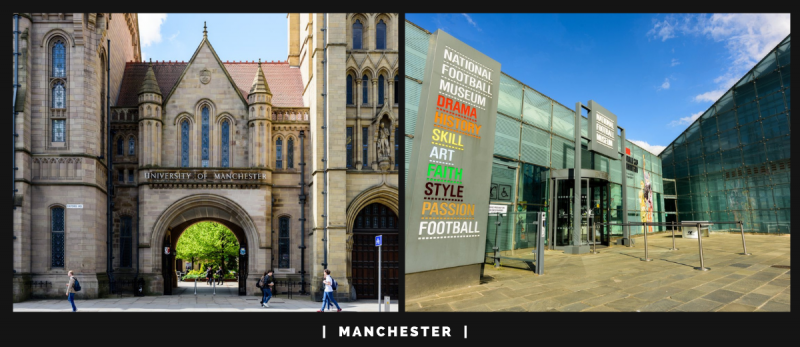 Please give us your essential 'must see in Manchester' for a first time visitor.
Manchester is an amazing, fascinating city with many different areas and aspects, some of the big attractions not to be missed – such as football Stadiums, no trip would be complete without seeing United or City! I also love the Town Hall, Manchester Cathedral, John Rylands Library and Chetham's Library to name but a few, the list is endless…
Wow, thank you John for such an excellent interview! We hope you enjoyed this peek into the busy life of John and if it has inspired you to find out more about Manchester for yourself, please do not hesitate to get in touch with your ASA consultant today!
We have a wide range of accommodation, tours and attractions available in the North of England, ready for you to explore! Here are some of our top picks:
CITY TOURS
Football fanatics flock in their thousands to Manchester and it's no secret to say that the
Manchester United Tour
is a firm favourite, exploring all things past and present that have shaped United into the club it is today.
Another great option for the sweet-toothed among you is the brand new
Afternoon Tea Taxi tour
, enabling you to explore Manchester from the comfort of a black cab, whilst indulging in a sumptuous afternoon tea, enjoying a fantastic selection of sandwiches, scones and cakes.
DAY TOURS
Make the most of Manchester's ideal base as a prime location to explore more of Northern England and its stunning countryside by taking one of our many day trips on offer. Our partners at Mountain Goat Tours offer this full day Lake District tour with daily departures from Manchester, or you may wish to explore the Yorkshire Dales which is also available as a full day tour from Manchester.
Our friends at Rabbies Tours have some wonderful full day tours available with Manchester departures as well, such as their Derbyshire, the Peak District & Poole's Cavern tour. You can also choose to explore Windermere, Lancaster & the Lake District or why not consider a full day trip to Snowdonia, Chester & North Wales?
ACCOMMODATION
With a wide range of accommodation to suit any budget, taste or requirement, we have an amazing array of hotels for you to choose from. Below we have highlighted just a few of our top picks:
HAMPTON BY HILTON MANCHESTER NORTHERN QUARTER >>
Located in the Manchester's thriving Northern Quarter, this hotel is an easy walk from Manchester City Centre, and minutes away from Victoria station, Manchester Arndale and live music at Manchester Arena
MERCURE MANCHESTER PICCADILLY >>
The four-star Mercure Manchester Piccadilly Hotel is one of the most central hotels Manchester has to offer, just a few minutes' walk from the train station and overlooking Piccadilly Gardens in the city centre. 280 comfortable hotel rooms with stunning city views

DOUBLETREE BY HILTON MANCHESTER PICCADILLY >>
Located in the heart of Manchester city centre, this hotel is close to all local attractions, and is an ideal choice for business and leisure alike. Relax and unwind in a comfortable guest room offering spectacular views across Manchester's skyline and enjoy a range of excellent facilities.
Get in touch today or log into your ASA account to book!